Developer: Nintendo
Publisher: Nintendo
Platforms: Switch
Reviewed On: Switch
Release Date: 10/09/2021
Price: £39.99/$49.99
Reviewed By: Keith Lavelle
Review Rush was kindly supplied with a review code.
Here we have Wario, who is finally back with more bizarre and outlandish microgames. And again, its way of playing has changed just like in the previous iterations of the WarioWare games. Let's see if it's any good.
The story mode, I.e. One giant tutorial. We see Wario and his weird employees get sucked in to Wario's latest money-making scheme a video game. Where he introduced viruses that are corrupting the games and they have to defeat them to get them out.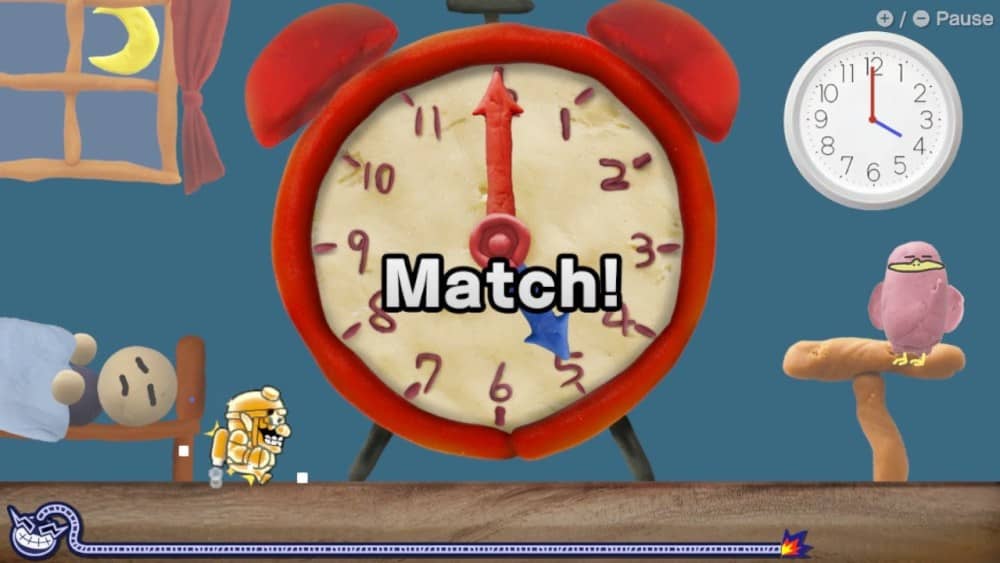 Why a giant tutorial?
The story mode introduces the player to the giant roster of 20 (two only available in multiplayer) and how they work. And as the Story mode will only take up around two hours to finish, it is the tutorial. As there are loads on offer besides the story mode.
Microgames
What are microgames? For the ones not in the know, it is a quick fire five second game that will see the player complete a ridiculous task. For instance, putting toothpaste on a toothbrush, to plucking underarm hairs and blocking a noise. With 200 microgames, there is a lot on offer and it make even better them with two players. 
As you progress in these games, the time drops, making reaction time an important part of the game. If you fail the next time, you will know what to do. This is where I had most fun, especially where it was a new Microgame I had not played before. 
Wario and the Crew
In this version of WarioWare, for the first time, is made the game feel more suited for console with each crew member using the controller and not a gimmick. This change has been ultimately made so that development can focus on the Switch's multiplayer abilities. I see nothing wrong with this at all. 
However, not all members of Wario's new crew are not made equal. Each of the characters is 'different' in their abilities. This is to some extent true… there is a bit of a crossover with skills, they are just executed differently. 
Ashley -She can fly around the shoot in a 360 arc, whereas 18-Volt – shoots in a 180 arc and can only move using rings places on the screen. For me makes Ashley a much better choice.
Young Cricket – He can jump high and move. Kat/Ash (only in two players) – Both continually jump but can throw shurikens. As most levels are open, and the Kat can jump as high as she again is more viable. 
9-Volt – can only shoot up with his Yo-Yo, and is on a skateboard, that does not stop and will move left and right until bounced off a surface. Mike – shoots up except faster and can move freely on the screen.
This does not mean that playing with any of the characters diminishes the fun, it just some characters are more functional than others. I had loads of fun with all the characters. One of my favorites is 5-Volt – she can teleport almost anywhere on the screen and create a shock wave. 
The choice of character plays in to the games themselves as you have to pick a set number of the crew to complete in the upcoming games. This mixes up how to complete them. Games are chosen at random, so there is no way to know what you will be playing. I normally let the game pick. This is more of a challenge.
Co-op play and over modes
WarioWare™: Get It Together! Is the first true multiplayer WarioWeare game. With specific games tied only to two players. I only got to appreciate some of these as I kept beating everyone in my house and no one wanted to play with me. And the co-op modes NEED two players.
Here is where the game really comes to life. As they say, gaming is better with friends. This is 100% true with this one. (maybe I think that as I was winning all the time.) One of the best co-op games is the air hockey, where you have to score. However, the opposing player has to obscure the view of the shooter. 
There is a leaderboard in the way of the WarioCup. This will have set games per week, and it's about replying and getting the best score possible.
Endless mode – sort of in the name.
Overall WarioWare™: Get It Together! Is a return to form, mostly. I enjoyed my time with the game, but with curtain aspects locked behind 2 player only. And some of the crew better than others. It sort of takes away the fun. 
This is one game that is made to be played with others first. And as its microgames, the experience gets boring alone after a few hours.

For more reviews, check out Xenoblades Chronicles Definitive Edition and Dragon Star Varnir