Name: From Gamers Magazine (Kickstarter page)
Editor: Andrew Smith – Guide Fall
Reviewed On: Physical and Digital
Release Date: Out Now – Issue 2 coming soon.
Price: Physical – $12.99/Digital – $4.99
*For a 10% discount on your purchase use code ReviewRush.*
Reviewed By: Keith Lavelle
Review Rush was kindly supplied with a review copy.
Here is something a little different!
Here we have something new for us here: a Review Rush, we have been given the opportunity to review a new gaming magazine – From Gamers. The editor and chief of From Gamers magazine also started the website Guide Fall. From Gamers started life as a Kickstarter project that raised 6k for the first two issues of the Magazine to be printed with all the money going straight back in to the magazine and the staff.
Why a magazine? Here are a few words from Andrew.
I created From Gamers for two reasons. First, I love print gaming media and I'm sad to see it going away. There was a time when gaming magazines were the go to place for gaming news, reviews, guides, etc. Unfortunately, those days are gone, and with it so are most magazines. I'm hopeful that From Gamers can help keep print media alive just a little bit longer.

Second, I wanted to create a gaming magazine that was written by gamers. Everyone has thoughts on video games, but not everyone has a platform to share those thoughts. One of the cool things about From Gamers is that we don't have a regular team of staff writers and anyone is welcome to pitch us, regardless of experience. That's not to say that any of our content is of low quality, not by any means, just that we are proud to give a platform to all kinds of voices. Issue 1 features work from over 15 different writers and artists. I think that's pretty cool!
I for one grew up with going to the local shop going buying the latest magazine, going home and reading up on all the games coming out in the next few weeks/months/years. It got to the point there I would subscribe and go down on a Thursday and pick up my gaming magazines from the local store that was kept behind the counter. Yes, kids this was before the internet.
I am only going to dive briefly in to the magazine and what it is about or I might as well read it to you if I go in to too much detail. And believe me you wouldn't want that.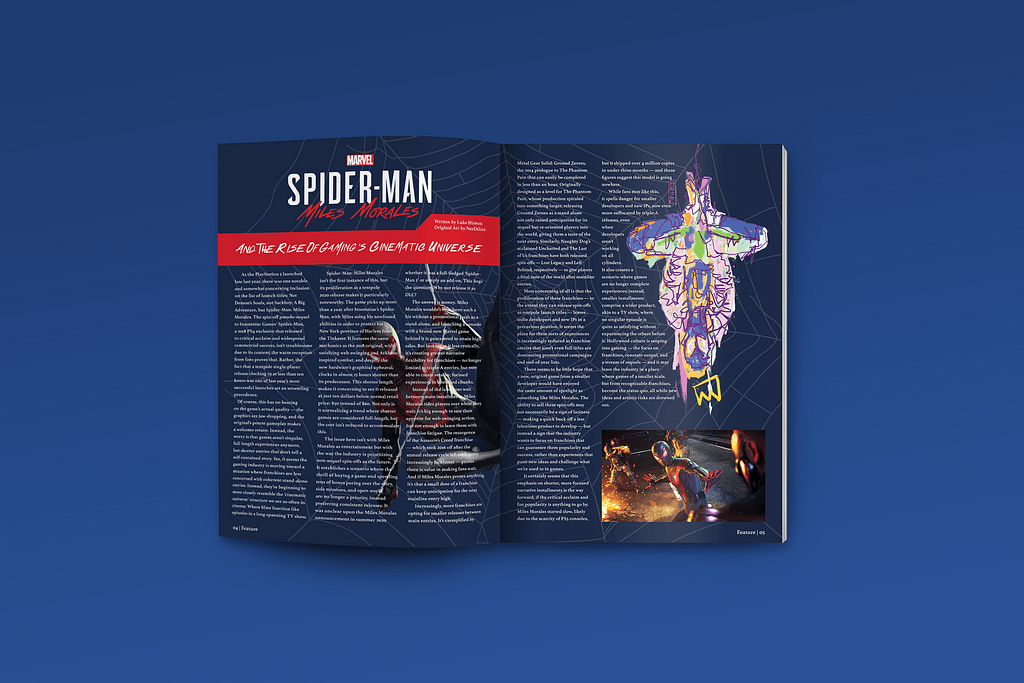 I have read the From Gamers Magazine, and I like it! It covers a variety of articles regarding to gaming. There are the articles covering a range of topics, game previews, reviews and interviews. Everything that you would want from a gaming magazine in all honesty.
The overall structure of the Magazine is easy to follow, with lots of modular pages allowing for clear defined pictures. When it comes to articles the pictures a set in a way to not confuse the reader and also allows for the article to have plenty of room on the page.
Articles
The articles as I have said cover a broad range of topics, from changes in gaming as an extended universe, takes about concept art, there is even a Far Cry time line in leu of Far Cry 6 coming soon.
Each article is well thought out and written, covering the major points of the title, with easy-to-read language and making some interesting points. I am looking at you = Extended Universe. 
The one article I loved was the revived IP article I so hope that it becomes a staple of the magazine. There were some safe games in there, but a few that were from left field. Being an old sod like I am, this was great to see.
Interviews
From Gamers Magazine had a couple of interviews, one on concept are for the Last of Us Part 2, that for anyone who finds game development interesting is worth a look see. As well as games, one that I have backed and can't wait for Tunche. 

Previews
The games on preview are some AAA titles, that most will know about. However, that said these previews go in to detail on how these games are shaping up and I going to be honest, i get more from reading about previews than I do listening.
I like to see some more indie style games previewed; Not as much detail of course. (This is my own want of course)
Reviews
There are 5 game reviews in there spread over two pages each. These cover all the main points and the pros and cons. They are again well written and thought out.
With a random book overview that I might pick up myself.
Kudos
I have to give Andrew and the team kudos on the From Gamers Magazine, you can tell that each person writing is passionate regarding gaming and are gamers themselves. The biggest high five has to go with acknowledging the folks who made this happen before anything else is wrote by the team. I am glad this was there first.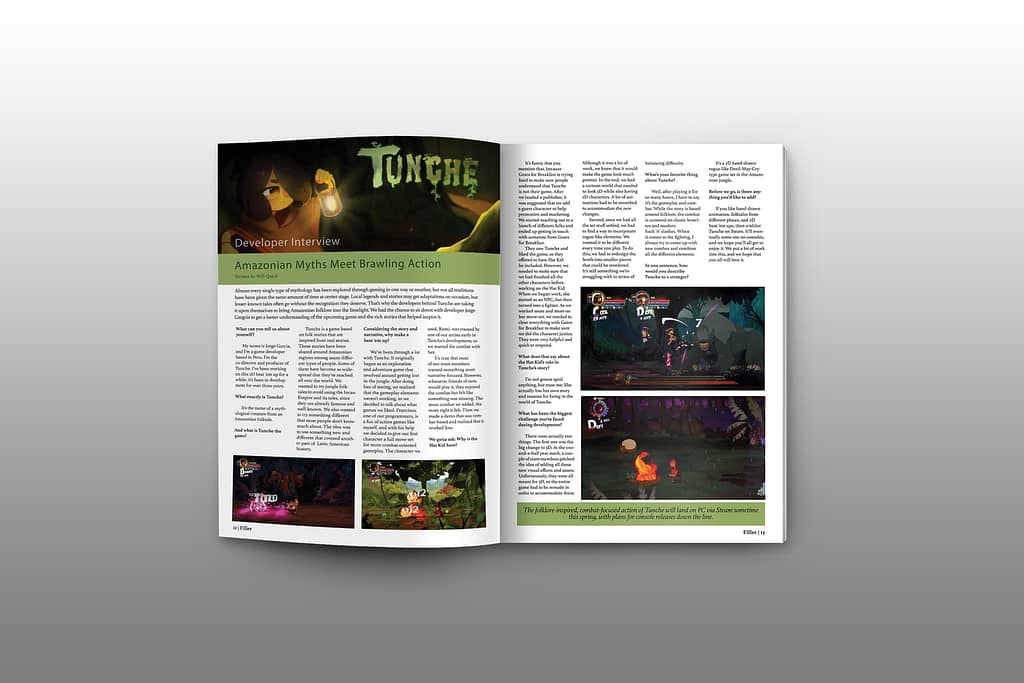 From Gamers Magazine comes in both print and download. With of course print being more limited as of writing this there are 40 copies left. If you have that longing to read and hold a magazine like I have, then why not jump on link below, buy a copy and use our promo code and get a wee discount on the order.
Remember visit From Gamers Magazine Shop and use code *ReviewRush* (no stars) for a 10% Discount on your order.