Developer: Pathea
Publisher: PM Studios, Inc.
Platforms: PS4, PS5, Switch, Xbox One, Xbox Serise X, PC
Reviewed On: PS4
Release Date: 07/12/2021
Price: £11.99/$14.99
Reviewed By: Keith Lavelle
Review Rush was kindly supplied with a review code.
Ever Forward is a puzzle game, with the narrative intertwined. Tt to something that is deceptively deep and meaningful. If not a little flawed.
You play as Maya, who is stuck between two worlds that are coming together. So Maya can front her own thoughts, feelings and her past.
Ever Forward is not heavy on the story side, but the story you get is a deep and meaningful one.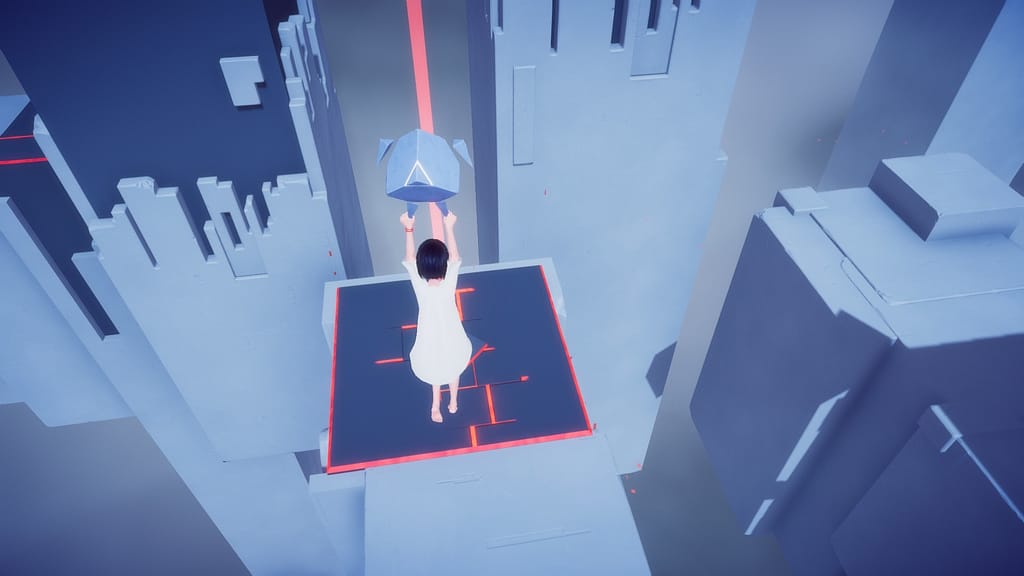 Strange New World
Maya enters a world full of puzzle that she must figure out to come to terms with her mind. The controls are simple. Do not let this fool you. The puzzles are far more challenging than they first seem.
Within each level, there will be several puzzles to solve. After each puzzle, there will be more of Maya's story unlocked. Ever Forward does a great job of making this simplistic looking and feeling world more difficult than you would expect. There were a number of puzzles that had me scratching my head.
Most of the puzzles I failed at seemed very complicated to begin with. Until the point where the penny drops and you understand this is how to do it. The puzzles will see Maya sneaking, distracting, throwing squares, carrying squares and so on. And the obstacles Maya will need to overcome, killer robots, moving platforms, switches.
Each puzzle has been well crafted and thought out to make the minimalistic gameplay feel wonderful.
Simplicity Is Beauty
The art style in Ever Forward is both simple and beautiful. The world crafted feels almost tangible and realistic, with an almost anime style mixed in.
Overall, Ever Forward has an easy to learn hard to master mentality. Some puzzles were great, some were OK. However, the lack of verity in the gameplay mechanics is both its strong and weakest point. The story is very relatable and surprisingly deep.
Ever Forward will not be everyone's cup of tea, but if you are looking for a simple puzzle game, then it could be for you.

For more reviews, check out Trigger Witch and Beautiful Desolation