Developer: Gearbox software
Publisher: 2K Games
Platforms: PS4, PS5, Xbox One, Xbox Serise X/S, PC
Reviewed On: PS4 Pro
Release Date: 10/11/2020
Price: £84.99/$99.99
Reviewed By: Keith Lavelle
Review Rush was kindly supplied with a review code.
Borderlands 3 Ultimate Edition is everything in one package. If you have not got the base game and season passes, it will net you an almost £40 saving.
Here we are back to Pandora with four new vault hunters, who are tasked by Lilith and the Crimson Raiders to find the vault map and keys and open the other vaults. Before the Calypso Twins for destroying everything. With help from the prevous valut hunters and other main NPCs from the presious installments.
As with the previous Borderlands games, there are sprawling maps, lots of side quests, crazy mental characters and GUNS!!!!!!!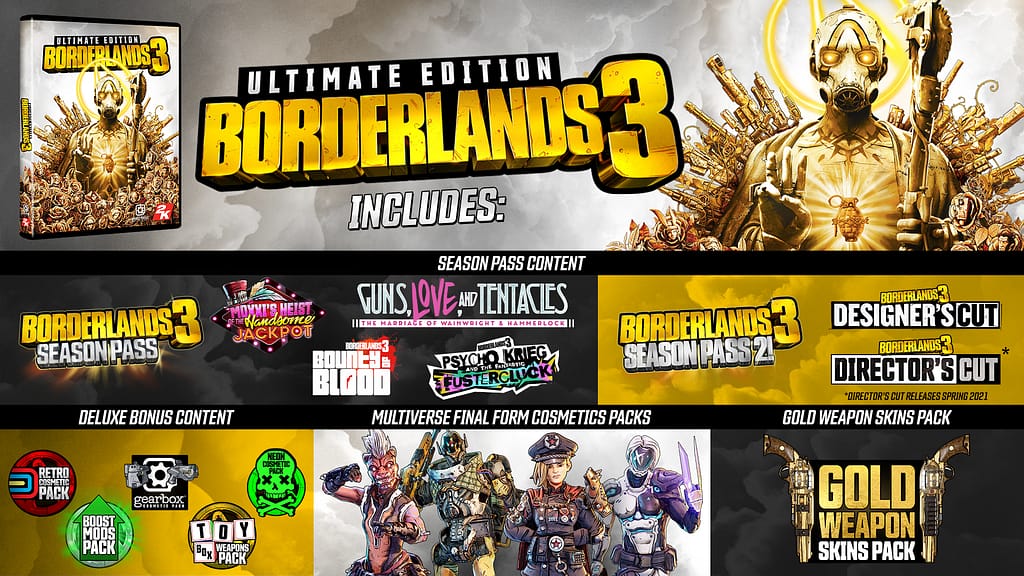 I am not going to do a full-blown review of Borderlands as it is now 3 years old. I will, however, just talk about the pros and cons of the Ultimate Edition.
Pros
Full experience with great DLC
Has some extras added on.
GUNS
Plenty of hot fixes so plays at its best.
Fantastic Story
GUNS
More weird and wonderful events
Travel to different planets
GUNS
Returning Cast
Hours of gameplay
GUNS
Cons
Pointless if you own base game and/or season pass
The Calypso Twins are annoying
Pointless if you don't like FPS
Pointless if you don't like Borderlands.
Even if the pros put weight, the Cons for Borderlands 3 Ultimate Edition. I feel for most fans it is the most important as well this version will not suit anyone who owns the game. This edition is to capture the players who would like to play it but have not got around to it and want the whole experience.
Even with the Borderlands 3 Ultimate Edition released to capture the stragglers it is an amazing game in its own right and I recommend it.

For more reviews, check out Outriders and Gal*Gun Returns